Are you bored this summer. Are you a student, a full time Mom, or an individual who just want to have fun and earn at the same time? Why not try for a garage sale!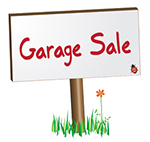 Yeah, garage sale! and I tell you it is so effective specially if you are situated in a crowded place. If you are in a similar situation with us, grab that chance to sale those slightly used, overly used but still usable clothing (LOL), old but still functional gadgets, and old accessories you've got there in your home. This is exactly what me and my hubby did last Saturday. Out of boredom and wanting to get rid of those unused things we have at home, he started to de-clutter and segregate those functional gadgets like chargers, cellphones, flashlight, binoculars. He also include his pants, shirts and shoes. The experience was really fun. And guess what, out of that items we sold, we're able to buy our needs!
Well, we're able to de-clutter and earn at the same time. Isn't it such a rewarding summer experience? If we have only known this idea earlier this summer, then it would be great! LOL!