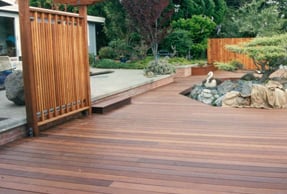 Unlike some of the other home additions, an outdoor deck actually increases the value of the property. Not only does an outdoor deck expand the available living space of a home, but it also provides a very useable storage area. While a deck can be constructed using a variety of different materials, Ipe wood has been proven to be one of the best. Here are some of the amazing benefits of Ipe wood.
Resistance to insects
Ants, bees, and termites can wreck havoc on a deck. The hardiness of Ipe wood makes it resistant to a variety of pests.
Durable
Ipe wood is designed to last for many years to come. As a testament to its long-term durability, some companies provide a 25-year warranty on all installations of Ipe wood. Even in extreme environments, Premium Ipe Decking is able to withstand the harsh elements of nature.
Low-maintenance
Although it is always a good idea to keep an outdoor deck clean, Ipe wood requires a minimum amount of maintenance.
Does not absorb heat
Unlike the typical deck materials, ipe wood does not absorb heat. The coolness of Ipe wood is especially beneficial when the summer weather begins to take its toll.
Does not warp
Even after 20 years of use, Ipe wood is still able to retain its original shape.
Eco-friendly
Ipe wood is derived from sustainable forests. This means that the harvesting of Ipe wood will not have a disastrous impact on the environment.