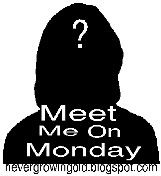 Every Sunday Never Growing Old will post five get to know you questions that you can copy and paste into your own Monday post and we can all learn a little more about each and every one of us!!
So here's my FIRST entry...
Questions (with my answers):
1. What are you wearing right now? well, not exactly right now but few days ago... I wore this black tee-shirt (a signature shirt for our True Love Waits symposium)
2. Do you have any freckles? Nope, but acne marks, yes :(...
3. What is your favorite Lifesaver flavor? minty candy feels good...
4. What is the last movie you saw in the theater?
Watch this movie... learn the lesson of forgiveness...
5. Would you rather live without tv or without music? I can live without television as long as there is music... (but not for too long though ;)
Well, well, well... There you have it...
Wanna join the fun?