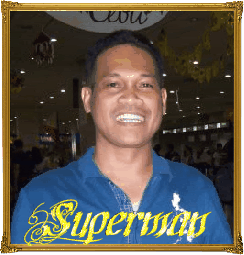 I am deeply honored to post about this man on the picture. He is just an ordinary man with an extra ordinary heart. He is known for being straightforward. A principled man who

fears no one except GOD

. Some may misunderstood him for being so bold but many admired him for being such. He is a mentor, a trainor, a counselor and a father. He is tough yet soft-hearted. A loving husband and a responsible father. A disciplinarian and a man after God's heart.
He is our Boss, our Kuya, our Tatay and our Teacher... a multi-tasking man, quick tempered but cools down easily... He believe that nobody is perfect and that knowledge is power.
We are so blessed for having him as our leader... This man just experienced God's faithfulness in his life... To you Sir Melo, Happy happy Birthday!